Print Multiple Files from Command Line
2Printer is a command-line tool that can batch print multiple documents and images from a specified location to any printer. With a range of useful parameters, it can be used on a workstation, server, or integrated into other software.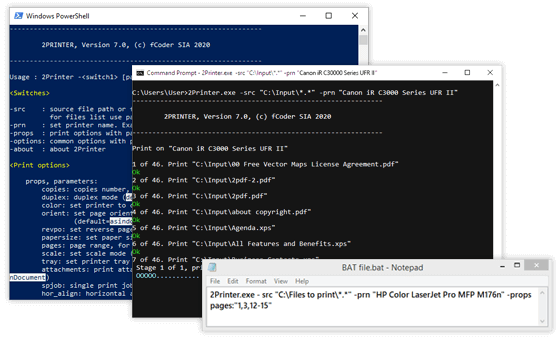 Command Line Syntax and Usage
2Printer can print from Windows Сommand Prompt, PowerShell, a script, or another command line interface. To view the entire list of all switches and parameters, open a command-line interpreter, and execute 2Printer.exe command. You can modify it to:
Print all files in a folder on a selected printer:

2Printer.exe -src "C:\In\*.*" -prn "Xerox 2050"

Print all files from a list in a strictly defined order, as a single print job:

2Printer.exe -src "@C:\List\files.txt" -prn "Xerox 2050" -props spjob:yes

Print all PDFs in a folder using certain printer tray, in duplex mode:

2Printer.exe -src "C:\In\*.pdf" -prn "Xerox 2050" -props tray:4 duplex:vertical
These are just a few examples of what can be accomplished. With 2Printer, you can also set: page range, number of copies, color mode, paper size, post-processing actions, and many other parameters.
Features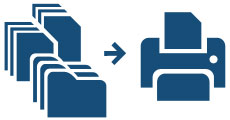 Batch Print Documents
2Printer can batch print all files from a folder or an entire list of files within one session. Process all or certain file types (e.g., .docx only). You can define the source, the printer tray, and more – all from CMD or terminal. When printing many files at once, you can set a strict file order to print them out in sequence.
Different Printers Supported
2Printer is compatible with office printers, MFPs, barcode printers, and plotters – any local or network devices that are connected to the workstation or an application server. You can specify a printer tray and paper size, if necessary, when sending print tasks to printers shared on a business network.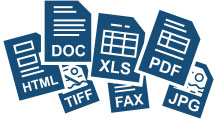 Print PDFs and Other Files
Automate printing PDFs from the command line, including PDF Portfolio, PDF/A, PDF/E, PDF/X documents. Besides, 2Printer can print plain texts, Excel spreadsheets, PowerPoint presentations, AutoCAD drawings, HTML pages, images, and many other files often used in an office.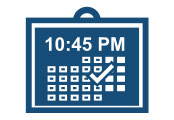 Scheduled Printing
Print at a specified time using a command line or a batch file! 2Printer and Windows Task Scheduler let you schedule a print job to print all documents from a selected folder, e.g., daily or weekly. You can run print tasks from a custom application or by using BAT, PS1, VBS, or CMD scripts.
How To...
Print Files Automatically on Schedule with 2Printer
Automate Office Printing with Software by fCoder

Download Free Version
Download the free version of 2Printer that allows you to evaluate the software and use it for non-commercial needs. The free version offers all the available features of the program. The only thing that makes it different from the commercial version is an additional page printed at the end of the print job.

Support Service
Please fill the support form if you have any questions about 2Printer software, or if you need any assistance or advice.

Price and Licensing
The commercial license costs $149. Please visit the order page to see all the licensing options.
Volume discounts are available starting from a 5-users license. There's a special price for governmental and non-profit organizations. Resellers and partners are welcome to join our worldwide distribution network! Please contact us to get more information.
2Printer News
New Domain and New Design of 2Printer Website
25 Aug 2020
Welcome to our newly redesigned website – the new 2Printer website cmd2printer.com is live! Find things quickly about our command-line printing software and get a better insight into what it can do.