Without the right software tools, printing multiple PDF files and Microsoft Office documents can be a time-consuming and profit-reducing process in a corporate environment. fCoder has several auto printing software solutions that can save you time, cut expenses and optimize the typical office's printing processes.
Auto Printing Multiple Documents At Once
With Print Conductor, you can auto print emails, office documents, engineering blueprints, and other file types on Windows automatically – without opening each document. The idea behind it is to print multiple documents with minimal effort. Users only need to drop files into Print Conductor's main window, select a printer, and that's it. PDF files, Microsoft Word documents, PowerPoint presentations, Excel worksheets, HTML and image files, Autodesk AutoCAD drawings, and more – all can be printed in hardly any time at all. The app's usability is intuitive, and no special IT skills are required.
If needed, users can change the files' printing order, change printing preferences, and click the Start Printing button. Print Conductor immediately starts a print job – and all files from a folder get printed automatically.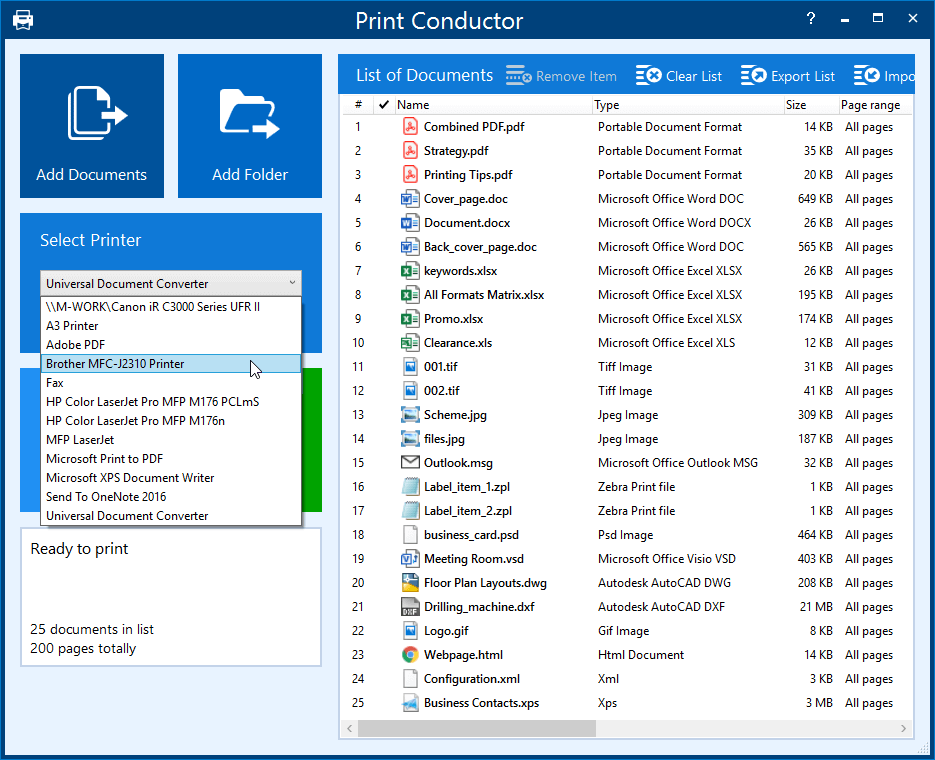 Users no longer need to follow tedious procedures: open a file, select a printer, check settings, print it; open the next one, print; and so on. Print Conductor makes routine tasks less time-consuming allowing to focus on what's really important!
Printing Files from a Folder Automatically
Print Conductor's level of printing automation may not be enough in some cases. Allowing to choose a printer and change printing preferences, it still requires the user's presence at the workplace. The one who prints many documents still keeps him/herself, the PC, the printer, and colleagues busy (while they're waiting till the printer is available). Mistakes can occur, too – and it may result in high costs on paper, toner, and electricity.
FolderMill is another solution that can organize automatic printing seamlessly. It can make printing in the office less time-consuming and user-unattended. The idea behind FolderMill is to hide settings from the end-users to remove the "human factor" from the printing process. This eliminates the possibility of mistakes and ensures documents are printed as expected and immediately.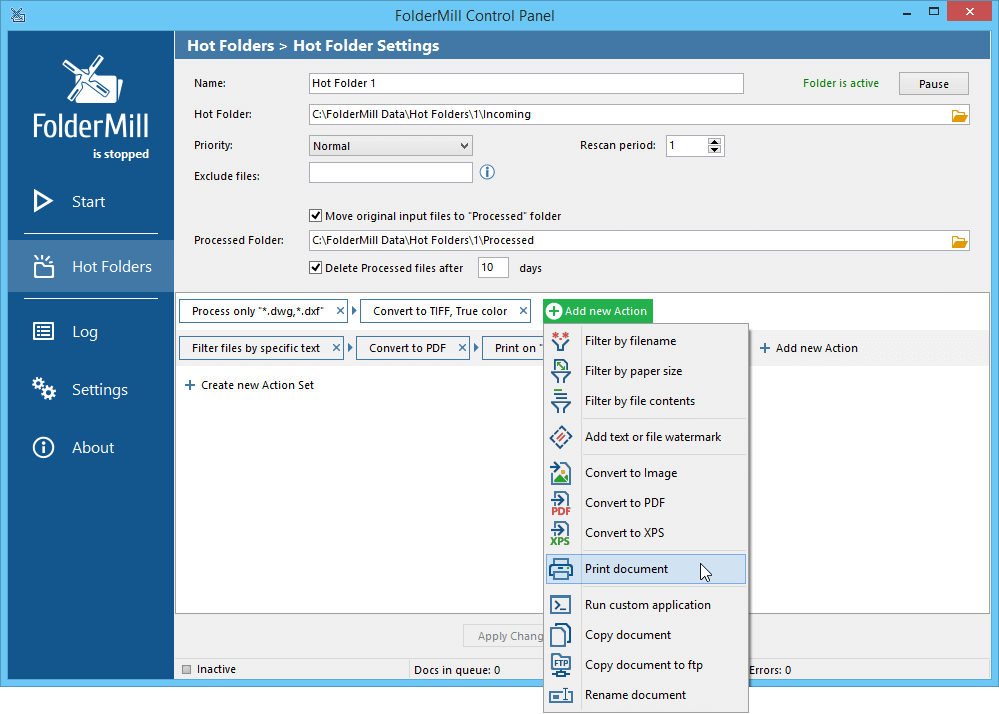 FolderMill is installed on a single computer, acting as a print server. To autoprint documents, office workers only copy their files to a network shared folder. As soon as new files appear, FolderMill watches a folder all files placed into the so-called "Hot Folder". All documents are processed based on pre-defined settings of a Hot Folder and general settings. 
FolderMill can be configured to perform different and multiple actions for each "Hot Folder", such as:
Each folder can be assigned with several actions for a specific task, for example, "Text Documents to MFP", "CAD files to plotter", "Business card printing", and so on. All a user needs to do is copy documents to the corresponding folder and pick up their printouts from the printer tray!
One of the unique features is the ability to print PDF and other files to one or multiple printers.
Automatic Printing Based on Scripts
2Printer is a command line tool for auto-printing PDF files, images, CAD drawings, and other documents. This product is excellent for software developers, system administrators, and tech experts familiar with the command line. With 2Printer as a printing core in workflow systems, companies can find even higher automation levels that tools like FolderMill provide.
One of its unique features is scheduled printing based on BAT, CMD, or other types of scripts. 2Printer can be configured to work via Windows Tasks Scheduler and print at night when electricity is cheaper. No more opportunities for errors and no more wasted time – all the documents can be auto-printed when electricity is least expensive!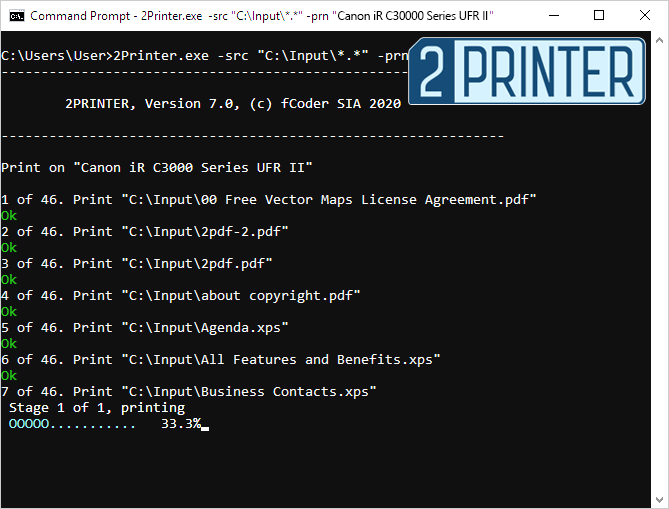 Besides, 2Printer may be included in any software distribution kit and be used by software developers. It can be integrated into existing code or another software as a fast and reliable printing component.
---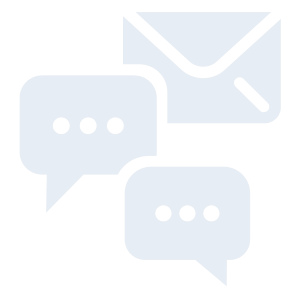 Need support or advice from our developers? Please leave us a message, and we will get back to you shortly.